KIDS' CHOICE AWARDS 2018: ecco tutti i nominati
Tutti pronti a scoprire i nominati ai Kids' Choice Awards?
Mamme andate a prendere subito i vostri bimbi perché Nickelodeon ha svelato tutte le star in nomination e la prima artista che si esibirà all'edizione 2018 dei Kids' Choice Awards, ovvero la super star JoJo Siwa. Lo show celebra i beniamini dei ragazzi di tutto il mondo nel cinema, televisione, musica e digital.
Tra le nomination di quest'anno ci sono: Dwayne Johnson, Gal Gadot, Beyoncé, Kevin Hart, Taylor Swift, Camila Cabello, Luis Fonsi, Shawn Mendes, Zendaya, Chris Pratt, Khalid, Cardi B, Selena Gomez, Millie Bobby Brown, Kendrick Lamar, Justin Bieber, Harry Styles, Chris Hemsworth, Ed Sheeran, Coco, Jumanji: Welcome to the Jungle, Guardians of the Galaxy Vol. 2, Wonder Woman, e molti altri.  La superstar del WWE John Cena sarà per il secondo anno consecutivo il presentatore dei Kids' Choice Awards di Nickelodeon in programma Sabato 24 marzo in California live dal Forum di Inglewood. In Italia, lo show sarà in onda in esclusiva su Nickelodeon (solo su Sky 605-606) in premiere venerdì 30 marzo alle 20.30 e di nuovo sabato 31 marzo alle 14.00 e domenica 1 aprile alle ore 19.30.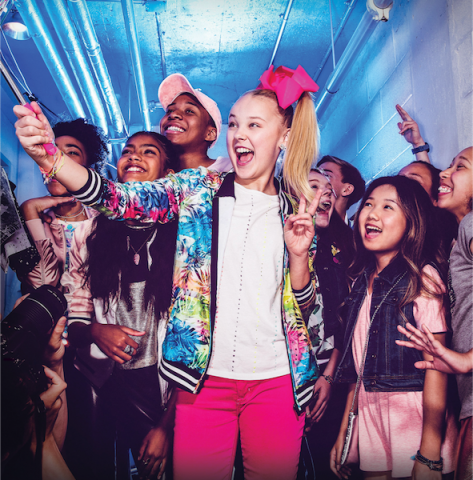 E' appena partita la prima fase di votazioni che, durante le 4 settimane di voting, vedranno man mano aggiungersi nuove categorie fino ad arrivare allo show finale. I ragazzi di tutto il mondo possono dunque votare su www.kca2018.tv i loro artisti, film, spettacoli, video e giochi preferiti. Ma andiamo a vedere tutti i nominati:
TELEVISIONE: (questa categoria si vota a partire da lunedì 12 marzo)
TV Show Preferito
Le amiche di mamma
Henry Danger
K.C. Undercover
Power Rangers Ninja Steel
Stranger Things
The Big Bang Theory
The Flash
I Thunderman
Cartone Preferito
Alvin!!! And the Chipmunks
SpongeBob SquarePants
Teen Titans Go!
Teenage Mutant Ninja Turtles
A Casa dei Loud
I Simpsons
Attore Tv Preferito
Andrew Lincoln (Rick Grimes, The Walking Dead)
Grant Gustin (Barry Allen/The Flash, The Flash)
Jace Norman (Henry Hart, Henry Danger)
Jack Griffo (Max Thunderman, I Thunderman)
Jim Parsons (Sheldon Cooper, The Big Bang Theory)
William Shewfelt (Brody Romero/Red Ranger, Power Rangers Ninja Steel)
Attrice Tv Preferita
Candace Cameron-Bure (D.J. Tanner-Fuller, Fuller House)
Kaley Cuoco (Penny, The Big Bang Theory)
Kira Kosarin (Phoebe Thunderman, I Thunderman)
Lizzy Greene (Dawn Harper, Nicky, Ricky, Dicky & Dawn)
Millie Bobby Brown (Eleven, Stranger Things)
Zendaya (K.C. Cooper, K.C. Undercover)
FILM: (le votazioni per questa categoria sono già aperte)
Film Preferito
Beauty and the Beast
Guardians of the Galaxy Vol. 2
Jumanji: Welcome to the Jungle
Pitch Perfect 3
Spider-Man: Homecoming
Star Wars: The Last Jedi
The Greatest Showman
Wonder Woman
Attore di Film preferito
Ben Affleck (Batman, Justice League)
Chris Hemsworth (Thor, Thor: Ragnarok)
Chris Pratt (Peter Quill/Star-Lord, Guardians of the Galaxy: Vol 2)
Dwayne Johnson (Dr. Smolder Bravestone, Jumanji: Welcome to the Jungle)
Kevin Hart (Moose Finbar, Jumanji: Welcome to the Jungle)
Will Ferrell (Brad, Daddy's Home 2)
Attrice di Film preferita
Anna Kendrick (Beca, Pitch Perfect 3)
Daisy Ridley (Rey, Star Wars: The Last Jedi)
Emma Watson (Belle, Beauty and the Beast)
Gal Gadot (Diana/Wonder Woman, Wonder Woman & Justice League)
Zendaya (Anne Wheeler, The Greatest Showman & Michelle, Spider-Man: Homecoming)
Zoe Saldana (Gamora, Guardians of the Galaxy: Vol 2)
Film d'Animazione preferito
Captain Underpants: The First Epic Movie
Cars 3
Coco
Despicable Me 3
Ferdinand
Smurfs: The Lost Village
The Emoji Movie
The Lego Batman Movie
MUSICA: (le votazioni per questa categoria partiranno lunedì 5 marzo)
Gruppo Musicale Preferito
Coldplay
Fifth Harmony
Imagine Dragons
Maroon 5
The Chainsmokers
Twenty One Pilots
Cantante Maschile Preferito
Bruno Mars
DJ Khaled
Ed Sheeran
Luis Fonsi
Kendrick Lamar
Shawn Mendes
Cantante Femminile preferita
Beyoncé
Demi Lovato
Katy Perry
Pink
Selena Gomez
Taylor Swift
Canzone preferita
Despacito (Remix) – Luis Fonsi & Daddy Yankee, featuring Justin Bieber
HUMBLE. – Kendrick Lamar
I'm The One – DJ Khaled, featuring Justin Bieber, Quavo, Chance the Rapper, Lil Wayne
It Ain't Me – Selena Gomez & Kygo
Look What You Made Me Do – Taylor Swift
Shape Of You – Ed Sheeran
That's What I Like – Bruno Mars
Thunder – Imagine Dragons
Cantante emergente preferito
Alessia Cara
Camila Cabello
Cardi B
Harry Styles
Khalid
Noah Cyrus
Cantante globale preferita
Black Coffee (Africa)
BTS (Asia)
Lorde (Australia/New Zealand)
Maluma (South America)
Taylor Swift (North America)
The Vamps (UK)
Zara Larsson (Europe)
ALTRE CATEGORIE: (le votazioni per queste categorie partiranno lunedì 19 marzo)
Video Game Preferito
Just Dance 2018
Lego Marvel Super Heroes 2
Mario Kart 8 Deluxe
Minecraft: Java Edition
Star Wars Battlefront II
Super Mario Odyssey
YouTuber Divertente Preferito
Alex Wassabi
Dan TDM
Dude Perfect
Liza Koshy
Markiplier
Miranda Sings
YouTuber Musicale Preferito
Ayo&Teo
Jack&Jack
Jacob Sartorius
Johnny Orlando
JoJo Siwa
Why Don't We
CATEGORIE ITALIANE: (queste due categorie sono già votabili)
Cantante Italiano Preferito
Annalisa
Michele Bravi
RIKI
Shade
Thomas
Webstar Italiana Preferita
Elisa Maino
IPantellas
Iris Ferrari
Luciano Spinelli
Me contro Te