Aggiornamenti per l'Opening di Hintertux
Si avvicina il primo Opening, è ora di sciolinare! Qualcuno è già stato in avanscoperta in seguito alla nevicata della scorsa settimana. Parte dello snowpark è già aperto e verrà terminato teoricamente per domani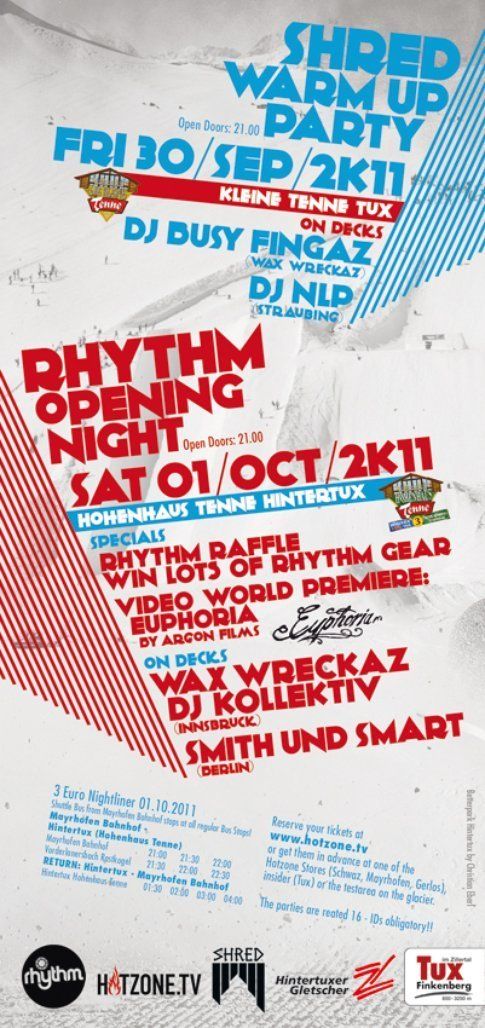 Qui trovi il sito del comprensorio, mentre qui trovi il sito con tutte le info dello snowpark ed il programma completo. Se sei interessata ad altre aperture seguendo questo indirizzo troverai tutte le date, dall'Austria all'Italia!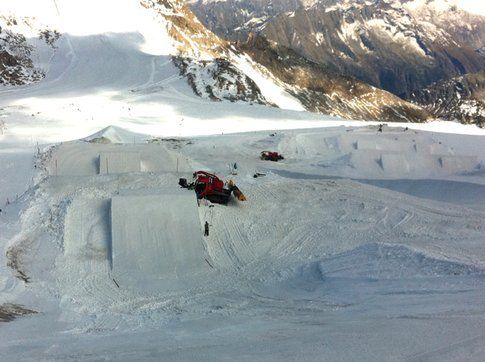 Programma Opening Hintertux
Programma sul ghiacciaio:
Venerdì-domenica 8:45 – 15:30
Betterpark – aperto a tutti!
Fernerhaus: test materiali gratuito, BBQ, DJ NLP (Straubing)
Marchi presenti: ARBOR SNOWBOARDS, ARNETTE, ARTEC, BATALEON, BERN, BURTON, CAPITA, DC, DEELUXE, DIE ÄSTHETIKER…, DRAGON, FLUX BINDINGS, FORUM, GNU, JONES SNOWBOARDS, K2 SNOWBOARDING, LIB TECH, NITRO SNOWBOARDS, OAKLEY, POW, RIDE SNOWBOARDS, ROME, ROXY, SALOMON, SHRED OPTICS, SILBÆRG, SLYTECH, SMITH, SP-UNITED, TECHNINE, UNION, VÖLKL SNOWBOARDS, YES.
Sabato
11:00 Pro Line Betterpark: Hotzone.tv Session of the Dudes
13:00 Rail Line Betterpark: Rhythm – Ride Rails con Flo Achenrainer
Domenica
9:00 Billabong Kids Shoot
12:30 Fernerhaus: Cash for Trix Session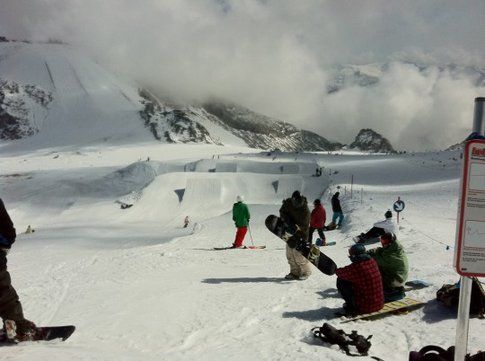 Alcuni rider sono stati in quota negli scorsi giorni, ecco un'immagine dal blog di Marko Grilc.
Programma a valle:
Venerdì
21:00 SHRED Warm Up Party a Tux, Kleine Tenne
DJ BUSY FINGAZ (Wax Wreckaz), DJ NLP (Straubing)
Sabato
14:00 After Shred Session al parcheggio di Hintertux
GLORYFY – ORIGINAL BAG JUMP BOMB DROP SESSION
K2 – Pop this! Highest Ollie Tournament
SILBÆRG – Slalom Skate Session
21:00 RHYTHM Opening Night in Hintertux, Hohenhaus Tenne (shuttle a disposizione)
WAX WRECKAZ DJ KOLLEKTIV (Innsbruck)
SMITH UND SMART (Berlin)
DJ NLP (Straubing)
VIDEO WELTPREMIERE: EUPHORIA di Argon Films
LOTTERIA RHYTHM – vinci un sacco di capi RHYTHM